the perfect place
To Say I do
Avalon Botanical Gardens offers the eight uniquely scenic ceremony sites to start your forever.
With lush natural environmental settings from waterfront to mature forest, panoramic meadow and garden options.
In t
The Wedding Pergola
This elevated waterfront ceremony site features dramatic views of forest, gardens, and Monet's Bridge as a background.
Seating can accommodate up to 200 guests in a beautiful semi-circle. The Pergola stands 12 feet high and 12 feet wide. You may decorate it to your hearts content but most brides find the quiet beauty of surrounding forest and waterfront views sufficient.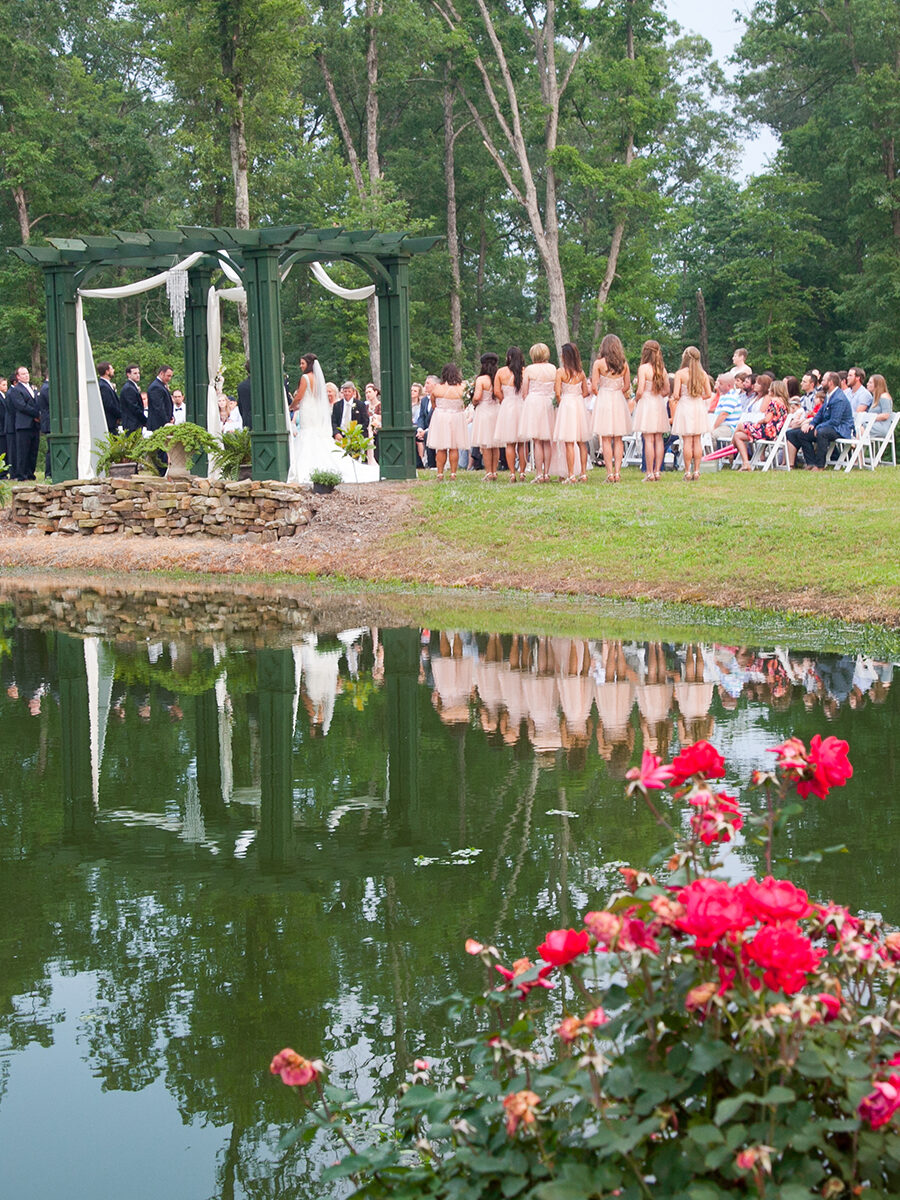 Monets Bridge
French Impressionist Claude Monet inspired this gently arched bridge designed by our garden founder. The deck floats on a steel frame allowing gravity to conform the wood to its graceful curves.
The design is perfect either for bridal entry to Wisteria Arch or as the focal point of an intimate wedding or elopement ceremony on the bridge. The adjacent lawn can seat up to 200 guests.
Serenity Circle
Serenity Circle is a forest alcove with a crushed stone pavement. It can easily seat 200 guests and features a see-thru antiqued steel arch known as The Birdcage Arch. The arch can be lightly decorated or left natural. Serenity Circle typically is about 10 degrees cooler than other outdoor ceremony sites during summer months. The site enjoys shade to dappled sun most of each day except a couple hours around high noon. This ceremony site is apron 1/2 mile from Avalon Hall and adjacent to Clara Pond.
Wisteria Arch
Wisteria Arch is adjacent to Clara Pond and Monet's Bridge. The gentle slope creates a natural amplitheatre accommodating up to 200 guests. The arch typically blooms in March or early April and remains green until frost in Mid October. The main structure is 13 feet tall and 11 feet wide. Often couples will ask us to suspend a monogram over the arch to make the site their own. In fall, leaves turn brilliant yellow until dormancy. New leaves emerge by April.
Terrace Garden at Avalon Hall
The Terrace Garden is located between two eight foot tall walls north and south. It is also between the Moongate Arch and Avalon Hall. 120 guests can be seated comfortably in the Terrace Garden just steps away from seasonal comfort of the hall.
Moongate Garden
The Moongate Garden is an outdoor room featuring a 72 foot wide stone ediface that rises above a sunken lawn bordered by high walls and bedded roses. The main attraction however, is a 16 foot tall Romanesque Stone Arch topped by a hanging garden of vining evergreens, blooming roses and seasonal annuals. To honor the traditions of the Eastern Moongate, the entrance is typically faced Eastward. This creates a significantly different setting for wedding ceremonies or concerts with the audience facing west. To avoid inconvenience, we typically schedule smaller ceremonies on the west side of the arch or recommend the main garden be scheduled for morning or sunset ceremonies. This protects guests from facing sun glare and guarantees a dramatic yet enjoyably beautiful experience.
South Lawn
The South Lawn is hidden behind the Moongate Garden. We often refer to the South Lawn as Little Texas because of its grand views and general splendor at sunset. This is a very new site currently used primarily for parties with large inflatable amusements for children. This site can accommodate hundreds for ceremonies, concerts or parties. A fire pit and tent site are also located on the South Lawn. There is a 50 foot covered terrace between the South Lawn and Avalon Hall. South Lawn can be illuminated at night when needed. A double gated wrought iron passageway opens between the East Terrace and South Lawn.
Avalon Hall
Avalon Hall provides an all season alternative for ceremonies in case of hot, cold or stormy weather. The space can be set for separate aisle seating for up to 250 guests or split between aisle seating and banquet seating. When appropriate, or for abrupt weather changes, guests can also be seated at their banquet tables with ceremony performed on stage or in front of the great arch. In seasonal months, the hall is primarily set for receptions but designed for quick rearrangement if weather makes a sudden change. This gives our clients a very practical "PLAN B" alternative when Mother Nature interrupts outdoor plans. The Hall's 14 oversized windows provide panoramic views of the surrounding splendor of gardens and amazing sunsets. A sweeping view of the entire Rich Mountain Range including Queen Wilhelmina Lodge and the Rich Mountain Fire Tower are all visible from the front lawn of Avalon Hall. Additionally, Avalon Hall provides a private bridal suite with full length mirrors, a makeup bar with abundant electrical outlets, a private restroom, lounge area and plenty of hangup space for gowns and dresses.
Guests have two restrooms with three private stalls and both rooms have double mirrored vanities. Restrooms are well lit with automatic sensors for additional handicap accessibility.
Avalon Hall is heated and cooled for year round comfort.
Stage with skirted tables, chavari banquet chairs, DMX Stage lighting as well as sound is available as a convenient option by request.
Special programmable color cove lighting is dimmable to accommodate any mood.
The event center also has a dedicated catering hall with its own driveway, storeroom and illuminated entrance for night safety and convenience.
Our staff provides setup of tables, chairs and table linens. We also typically provide table bussing, cleanup and trash disposal so you can focus on enjoying your family and friends.
A two lane covered portico allows guests to deliver and receive their loved ones at the front door with minimal discomfort during stormy events.
Contact Us
For inquiries or booking, contact Avalon Keep Botanical Gardens today!
---